Si Nakharin Reservoir (Si Sawat area)
29-May-2001 by Martin Schmidt

Last weekend kayaking on Si Nakharin Reservoir, starting from Na Suan (GPS: Na Suan) and going north.
Ong Hlu Village (GPS: ONGHLU) can be reached by 12 km boatride from Nasuan + 5 km walk.
Fridays, the children at the school wear traditional Karen clothing, cute. Be there before 1pm to see them.


The Ong Hlu School: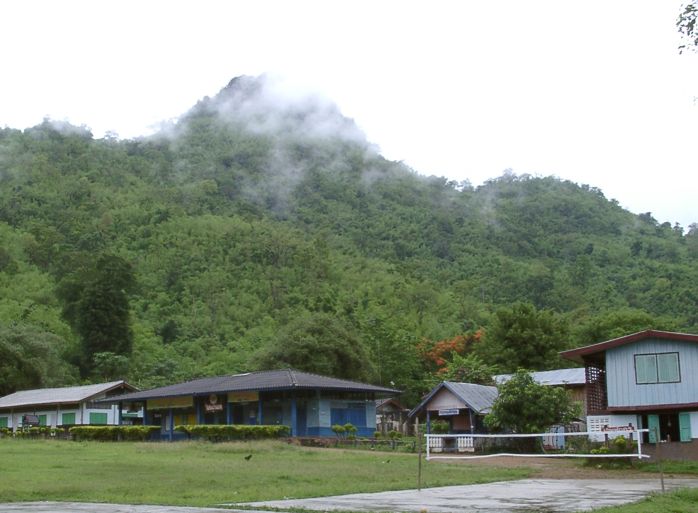 Ong Hlu can as well be reached from Kiti. It's a 10km / 3h mountain trail (climbing) or a much longer between-the-mountains-trail (dirtbike or MTB). A small waterfall is 30 min walk from Ong Hlu. Prawns can be found, there.
National Park staff at Huay Mae Khamin Waterfall can provide detailed info and GPS coordinates as well. Ask for Mr. "Gai Damm" (nickname).
From Na Suan north towards Um Phang: Several checkpoints have to be passed, at the entry of the wildlife sanctuary need to leave an ID or business card, but they let us enter with the kayak and without special permit.
A few other people are allowed to enter for fishing. They seem to be better off, nice boats with outboard engines, no longtails.
Some km into the protected area is a steep waterfall flowing into the river (GPS: WAFA2).
We turned back a bit after the waterfall, but following park rangers' info, a kayak can go thru to Um Phang. Camping in the protected area is neither recommended nor allowed.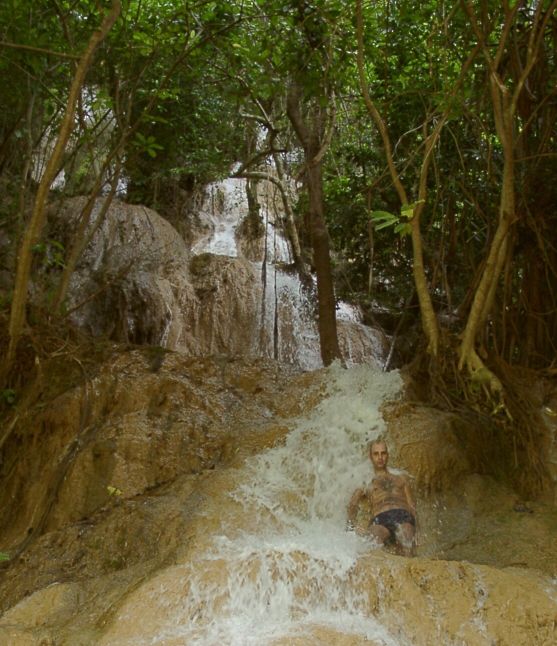 There's really a lot of wildlife, even outside the wildlife sanctuary:
At midnight, we reached the island where I planned to camp (GPS: ISLA08). I only camp on islands, expect fewer wild animals there. Well, as we approached the shore, my friend noticed two eyes looking at us from amongst the trees. The eyes were quite a bit apart, surely not a small thing. We backed away from the shore and observed from a save distance.
After about half an hour, the beast moved and it became obvious it's a rather big cat.
So this campside had been taken, we moved on to another place, a couple of km away: It looked like this (next morning):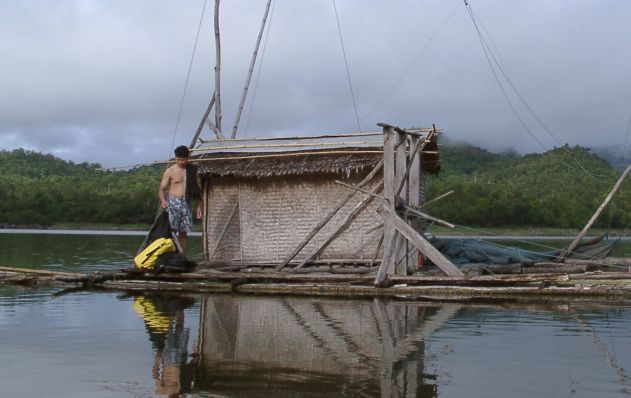 Park rangers informed us that only red eyed cats are dangerous, what we saw had green eyes. However, depending on the situation, green-eyed cats might not be 100% safe camping companions either.
Note: In order to see the reflection of the cat's eyes, hold the flashlight near your eyes.
Farmers complain a lot that big cats eat their cattle, so no need for the cats to eat people. Only few accidents with people are heard of. Still, a potential source of excitement..

Once going beyond Na Suan, carry your own food for the time you plan to stay away from civilization. You might still buy something at GPS waypoint SHOP01, but could as well be sold out. In a worst-case scenario, catch fish or accept some of the food that the (nice and mostly Karen) locals will offer you.
Ranger stations / checkpoints are good places to spend the night / pitch a tent.
Kayaks can be rented at River Kwae Canoe (GPS: RIKWCA) in Kanchanaburi. They have "Feelfree" brand sit inside boats made from PU. A Dolphin2 double weighs around 35 kg and is slow. Single or double each cost THB500 rent per day. If you want to buy a boat, contact the maker, "Feelfree" in Minburi (01-6577008 or 641-1418 or joysport@ksc.th.com). The Dolphin2 double costs THB22200.