Pisang Molen = Rp 200(village), Rp 250(town), Rp 300(city)

Exchange Rate for Reference: IDR 10,000 = EUR 1.00 = USD 1.17
---
27.November 2003
Early morning, AVIS rental car from Villingen to FRA Airport (that is Germany). Traffic jam on Autobahn. Detour via Wuerzburg.
Approaching Frankfurter Kreuz, should have listened to navigational system to avoid traffic jam. Not enough time to refuel rental car.
No problem on checking in bicycles. Smooth departure on MH005 to Kuala Lumpur.
28.November
Arrival at KUL, onward flight to CGK. Meet friends and pass gifts, accept photos for my family.
At CGK, change EUR cash into IDR at small Bii counter on upper level (departures). Best rate, there.
Buy Lion Air ticket to Manado at Rp 599,000 and wait until departure in the evening.
2 hours flight to Manado, then cycling 10km from the airport (GPS MANADO) to Manado center.
The previously popular "Hotel Smiling" has been merged with "Celebes Hotel" (just across the road).
We check into "Celebes Hotel" (GPS CELEBE). A double room with fan and attached bathroom goes for Rp 60,000. It's not that clean and the shower doesn't work well. Our bicycles find a place in a storeroom at the previous "Hotel Smiling".
A few days after this, renovation of "Celebes Hotel" starts. By the time you read this, expect an all-new hotel and all-new prices.
29.November
Boat to Bunaken. In the harbour area and at hotel lobbies, touts sell boat trips to Bunaken. Asking price for boat hire is Rp 250,000 to 400,000 (before bargaining). When bargaining, consider where the boatman lives. Some stay on Bunaken and do not need to return to Manado. These folks can do it for less. Finding other passengers to share a boat is the best way to lower the price of the trip.
Depending on the weather, smaller boats (often outrigger type) take a non-direct (longer, slower) route to avoid rough sea. Larger boats still can go direct line to popular Pantai Liang.
There's a large public boat from Manado to Bunaken village (and back), this costs Rp 15,000 per person and goes once per day.

Boatman drops us at Bastiano's on Pantai Liang (west coast, GPS BASTIA). This appears the most-recommended place on Bunaken.
Bastiano's charges Rp 125,000 per person and day, including 3 meals. Based on what other travelers reported, this is not cheap but food and accommodation at Bastiano's is better than most other places.
Our room has a great view over the beach but we dislike that electricity is limited (5pm to 6am) and the mandi is being filled manually, once every morning. There was no shower, but there could be better rooms (at higher rates).
Bastiano's is pretty good for divers. They have good guides, good equipment and several boats of their own. If you are on a budget, I suggest to double-check tour prices as we ended up paying more than we understood the day before.

The cheapest place on Pantai Liang is Panorama (from Rp 50,000 per person with meals). Travelers who had stayed there said it was not too nice.

The afternoon, we visit the booth where the marine park entrance fee has to be paid. This is Rp 50,000 per day or Rp 150,000 for a whole year. We're not sure how important it is to pay this fee, as police is said to be not very particular about it. We decide that everyone of us buys a 1-day ticket for the next day when we plan to go on a snorkeling trip.
Next, we walk around the southern part of the island. There's a lot of villages, farming done everywhere. The largest settlement, the town of Bunaken (GPS BUNAKE), consists of a Christian and a Muslim part. The church is huge.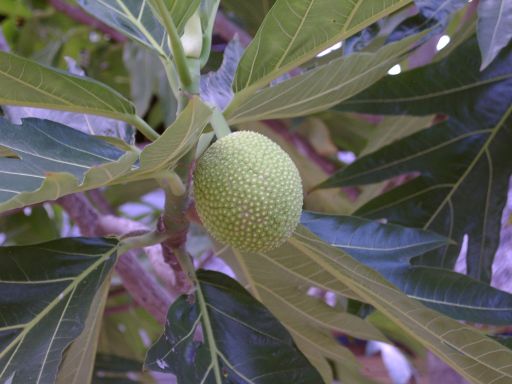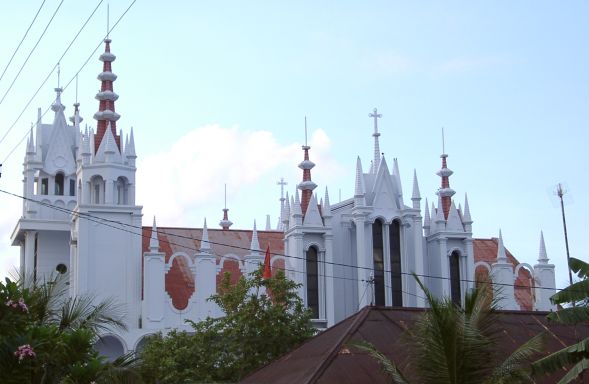 At dinner, we meet two guys who started a new diving operation in Irian Jaya and said that sealife there was amazing. Their website tribaldiving.com has disappeared meanwhile (January 2007)
30.November
Joining a dive tour and enjoy excellent snorkeling at 3 different spots. One of these is found at GPS DIVE01.
There is always a current and we drift along, can see a lot without much swimming. Boat follows the divers / snorkelers and picks us up when we have enough. Typically, we stay in the water for an hour at each location.
I encounter a sea snake (ular laut), a large turtle (kura kura) and lots of other creatures I cannot name. Colors are great and fish as well as coral are plentiful. It's my best snorkeling, beats Gili Air near Lombok and for sure Ko Samui / Thailand. The trip costs USD 10 per person (for snorkeling) including equipment.

This night, we spend at Lorenzo on Pantai Pangalisang (eastern side of island). Costs less and food is less exciting than at Bastiano's, while Lorenzo has 24h electricity (tapped from the Living Colors' genset) and running water. Each person pays 60 / 90 / 100,000 depending on the type of bungalow. 3 meals are included. Bargaining possible.
1.December
We get up early for the public boat to Manado but eventually join other tourists who have arranged for a rented boat to carry them back. On the way, the boat's engine fails extending the trip to well over one hour. Alkis misses this boat as he is walking back to Bastiano's asking for his watch that he forgot in the hut the night before. They know a watch has been forgotten but say they couldn't find it.
I wait for companion Alkis at the Hotel Celebes restaurant upstairs. There's renovation being done at the hotel. They plan to extend the lobby.
Alkis comes in (took another returning boat), we get the bikes and cycle south to Mega Mall for lunch at the foodstalls lined up along hte beach. On the way, we fight some heavy traffic (Alkis dares to go right thru the bus station in the wrong direction, cool).
We cycle to Tomohon in the evening. During the ascend, we stop and eat Langsat at a fruit stall.

Nice place to stay in Tomohon is Mountainview Homestay. Very clean, excellent service at Rp 120,000 for a double room with attached bathroom. Generous breakfast is included. Owner Freddy can tell a lot about the area and speaks English. Mountainview Homestay is not mentioned in the bible and there are virtually no foreign visitors. Coming from Manado, it's on the mainroad, beyond the commercial center of Tomohon and further beyond the turnoff to Tondano, on the right side (GPS waypoint MOUNTA).
2.December
Visiting Tomohon morning market near bus station. We photograph bats and dogs at the butcher's and buy a large and strange fruit which later turns out over-ripe.
Alkis returns to the homestay for some rest while I tackle Gunung Mahawu. After turnoff from asphalt road, it's best walking due to large stones on the way. I use the bicycle anyhow.
From where I can no longer cycle, I ascend by foot. It is easy and takes me 45 minutes. The guy from the homestay said 30 minutes.
Having arrived on the crater rim (GPS MAHAWU), the weather clears and I get some great views of the surrounding scenery and into the crater.
I try to climb down into the crater. Some boys just return from inside the crater, they say there's only one way down. I follow their way. Halfway I give up, as one part is rather steep and the ground (and every rock to hold on) is loose. However, with both hands free and a little courage, it can be done. I walk around the crater rim for some more views before I descend with the boys who have made a camp fire on the rim to warm up.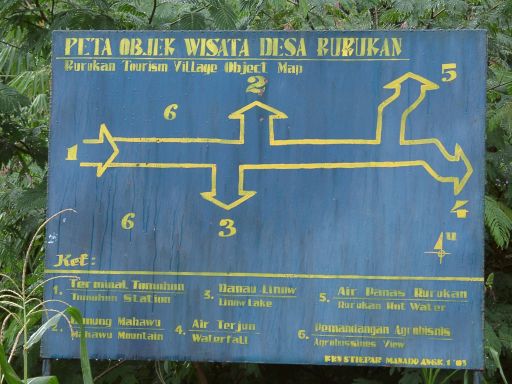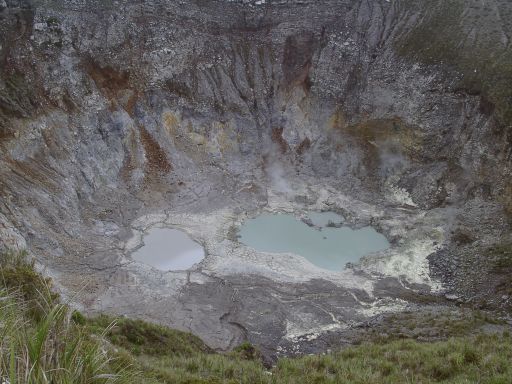 From Gg Mohowu, we (the boys and me) walk to Rurukan Hot Spring (GPS 2RUHOT) where we wash. Then I'm invited home for a cup of tea. The family are Christians and live in a traditional Malay house (GPS WELLIS). I drink tea while the rest of them smokes. Papa appears quite a strong guy and I ask myself why he allows his kids to smoke.
Meanwhile it's dark and I continue to the Japanese Cave (GPS GUAJP1) near Kampung Java, road to Airmadidi. I can't find it rightaway, get help from a Minahasa officer on a motorbike. The cave is strange in a way, that lots of bats hit me, while they should normally use their ultrasonic senses to dodge any obstacle. I enter the cave briefly, without exploring to full extend. It's quite large, I understand.
Above officer takes me home to Kg Java for some tea and Muslim festive food, then to the Minahasa government where he asks me to shake hands with the chief who's just on the way out to a function in Manado. I meet some nice and well-educated people but don't really understand why I am here.
I return to Mountainview Homestay late at night. Alkis was relieved when I finally showed up again.
3.December
While Alkis rests, I attempt cycling around Danau Tondano but get lost in the area so I have no time to make it around all of the lake. I visit Tandano in the evening before I return to Tomohon. Alkis an me then have dinner at a Chinese restaurant in Tomohon downtown.
4.December
The plan is to cycle south to the coast. We expect to find a resort at the town of Belang. Danau Tondano we pass on the west, past Remboken.

Police check as we exit Belang to the west: They check passports and want to know where we want to go. They claim there was no accommodation in Belang and our only option would be either a resort 10km to the east or Lak Ban Resort in Rata Totok, 20km to the west of Belang. We decide to go for Rata Totok and police asks us to report to the colleagues there as we arrive. (Later we learn this information was pretty much rubbish and I remember that somewhere, someone told me "don't ask the police, ask the people".)
We arrive in Rata Totok and visit the police office. They take some time to understand what we want and finally let me write into the log book, that we two westerners arrived OK.

Next we ask for Lak Ban Resort. People on a 4WD guide us there and we find it's a guarded beach nearby a port that supplies a mining operation in the area. The beach is about 3km out of town and has a few roof-only huts and plenty of mosquitos. There's no people and no bungalows to rent, but the place is OK for camping if one brings a tent. Not what we were looking for.
We return to town and check for other places to stay. The local penginapan, Marcel (GPS MARCEL), is full. An alternative across the road is full as well. Eventually, a guy called Chiong offers that we stay in his house as his wife is out for some days. We accept and have a great place to stay.
In preparation of the evening, I go out with some of Chiong's friends and buy several durian (that is good Durian Bangkok) plus other supplies. During the evening, we are being offered to join a trip up to the gold mine, next morning. We're excited - we will be rich ! We cannot await next morning.
5.December
The day starts with a jambu-seller, a lady carrying two baskets with traditional medicine. As she spots me shaving in the garden of Chiong's home, she asks if I like some jambu. Luckily, Alkis is still a little sick giving me the chance to experiment. I let the lady in and ask for something against masuk angin.
Alkis manages to drink the brew and swallow some additional substances that are supposed to contribute to the healing effect. (It was 8 days later that Alkis felt better, not sure if related to jambu.)

Next we climb aboard the 4WD, Chiong picks up some of the folks from last night and drives up to the gold mine. We pass the security gate at the American-owned mining operation, a highly industrialized way of gold mining. I ask our hosts if we don't need a permit to enter. The answer is that the 4WD is enough of a permit.
We then follow a deteriorating road further up the mountain. The road turns really bad and goes on like this for quite a while. We can't believe that our 4WD can do it, but it can. Eventually, we reach a place called Lobong (GPS LOBONG). People from Rata Totok have set up their own mining kampung with a blacksmith, some warung and chicken running around.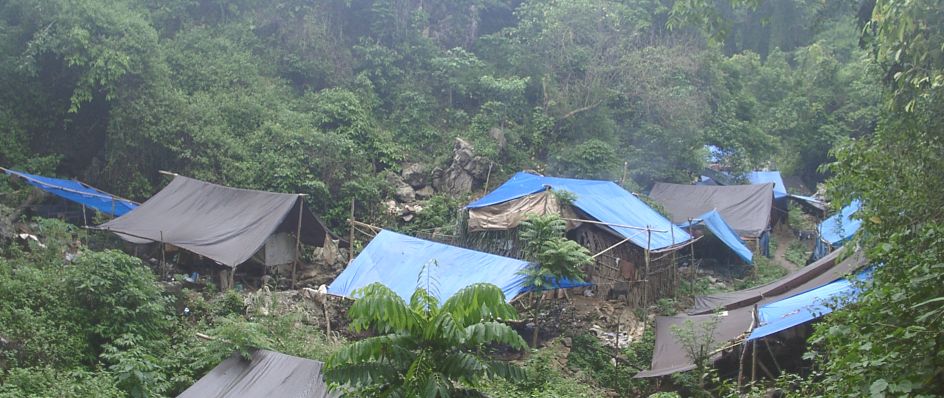 This is the gold-making procedure as I understand it:
From underground, bring up the right type of rock, the one that contains gold.
Then put it in large drums - add water, stones and quicksilver - spin the drums, grinding the quartz: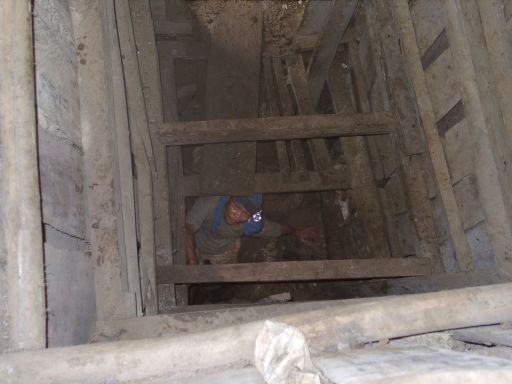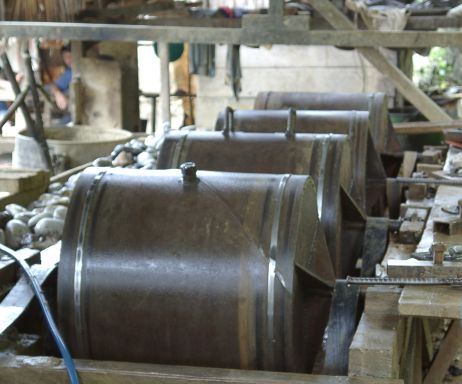 Take out the mix from the drums and separate the quicksilver which has become amalgamated with the gold: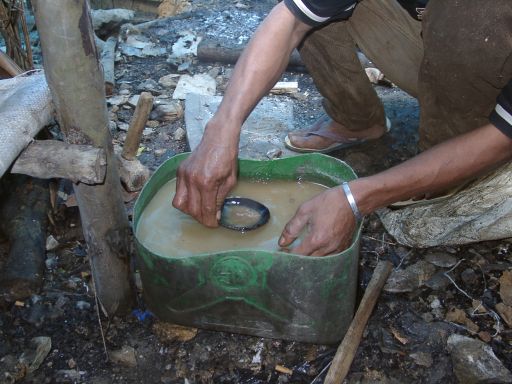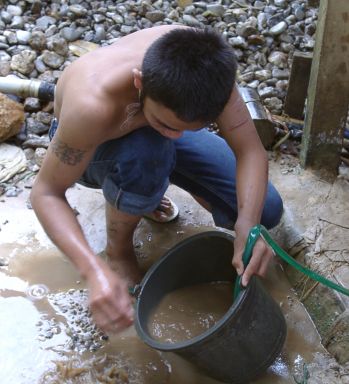 Filter the quicksilver by means of hand and fine cloth (the one used for umbrellas) and obtain white gold: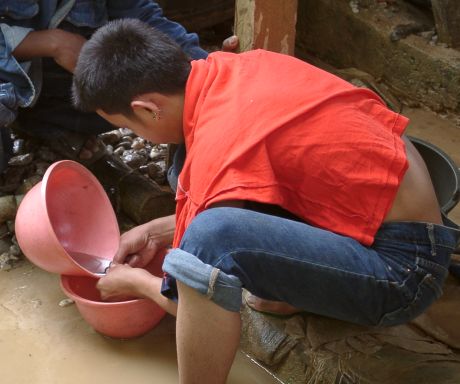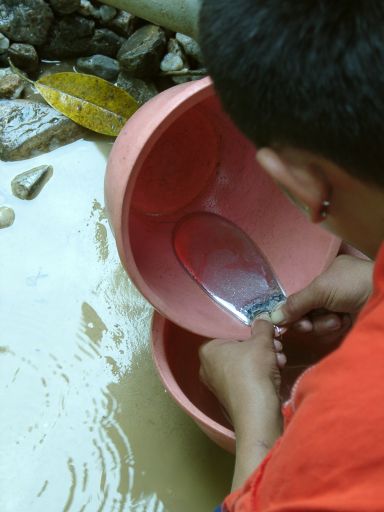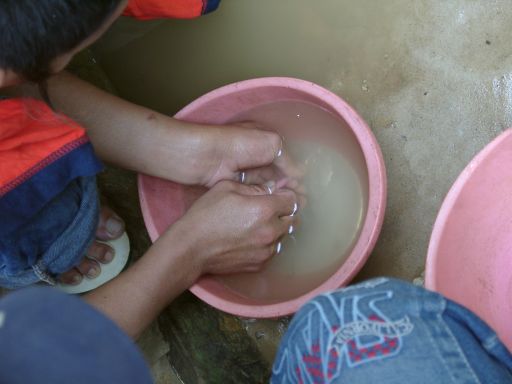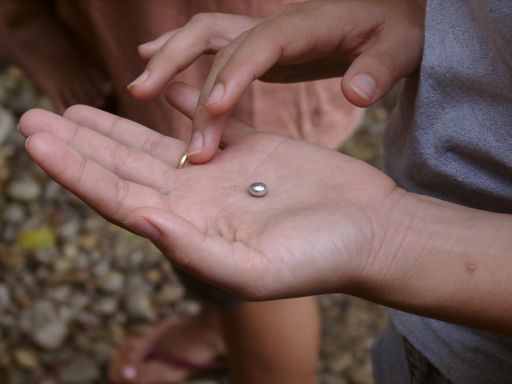 Melt the gold to turn it yellow: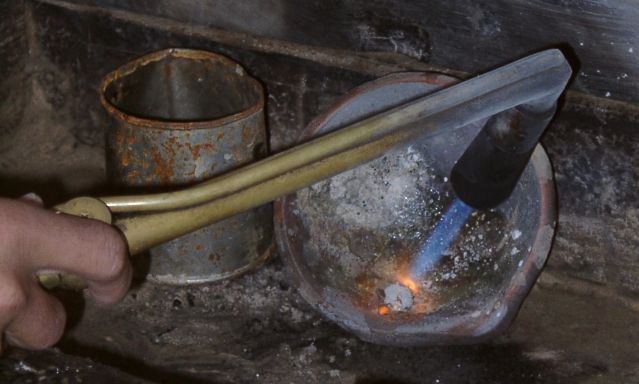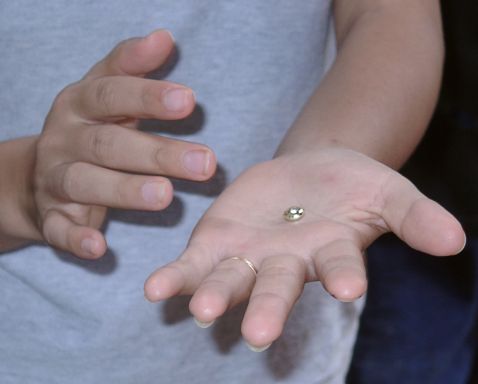 The yield of this operation seems poor (a few gram of gold every day with all these people and machines working) but for locals it is attractive. At least all the gold obtained is theirs, no foreign company involved. I am told the mine was operating for something like 30 years now and never encountered any casualties.
The way down from the mine is again frightening, now with rain. Again, the 4WD exceeds our expectations and we arrive at Rata Totok safe and sound.
After a treat of chicken and rice, we say goodbye to Chiong and his friends and cycle south-westwards, direction to Kotamobagu. Here's a list of the kampung we pass: Buyat, Bunang, Paret, Kayu Moyondi, Tombolikat, Tutuian, Togit, Dodap, Motongkat, Molobok, Jiko (here need to turn right = uphill for Kotamobagu), Biandi, Lanut (another gold mining town), Bardaro, Modayag, Kotamobagu.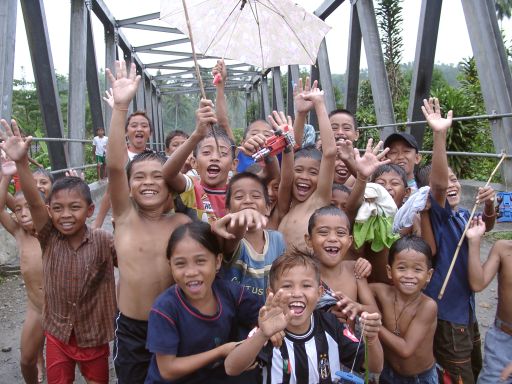 A while after nightfall we pass the gold mining town of Lanut and feel we need rest. At Bardaro, we check with the kepala desa. He's a nice man who loves to have a lot of people around, we are welcome to stay. That night however, he has welcomed several 10 more people who now all watch his satellite TV which unfortunately goes out of alignment right when we arrive. So we have several 10 people staring at us and asking the popular questions. I realize that without TV, this could become a strenuous night so I try my best at realigning the parabol antenna while Alkis takes care of the questions of the crowd. Soon, the audience' attention is back to the screen and we focus on tea and some real nice cookies that ibu kepala desa has made by herself. Eventually we can steal away into the guests' room and find rest.
6.December
We start early, tackle 2 more ascends, then descend to Kotamobagu. On the way, about 3km after Modayag (GPS MODAYA) there's a turnoff to hot springs (turn right 50m after church). At the end of the kampung, find a building with pools inside. They are only partially filled with water and not that clean. The actual spring is a bit further up amidst rice fields (GPS AIRPA1), in the middle of an old, artifical pool. It's a very scenic spot.

At Kotamobagu, we head straight for the bus station (long distance buses). This is found at Kg Mongonai to the west of Kotamobagu and is called Terminal Bonawang (GPS MONGON). We catch a bus (blue Angkutan) to Boroko on the north coast. Bikes go on top.

The bus drops us in the evening right in front of a combined rumah makan / penginapan / tire repair shop. Dinner is not bad and we pay Rp 10,000 for a very basic double room. We're lucky to get this only room, more people come and have to sleep on benches.
Right behind the penginapan there's the beach. We spend a relaxing hour there, watching waves and goats.
7.December
We plan to cycle to Telaga - and make it as far as Kwandang (Kuandang). On the way, we visit Gentumo Beach (GPS GENTUM). We cannot avoid a brief photo session with curious villagers. On the island off the beach, there's said to be a local tourist resort.

At Kwandang, we visit Benteng Oranje (ruin of a fortress, GPS BENORA). It's locked, but the lock doesn't need a key to open. It looks like long time no visitors.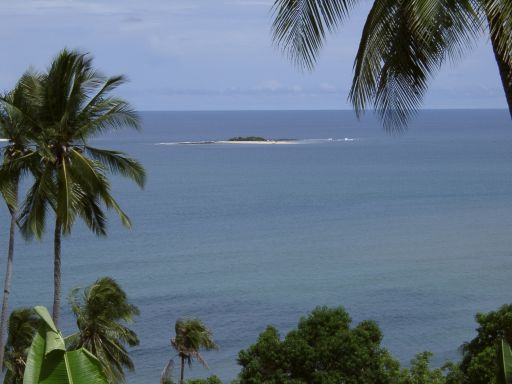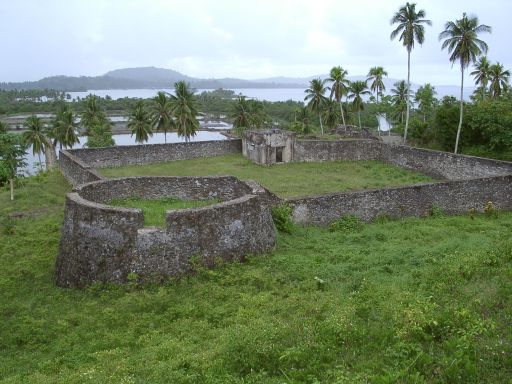 There's a small penginapan at Kwandag Port (GPS PRIMAD). The port itself looks pretty much neglected, the terminal building crumbles to pieces.
At Kwandang port, we hop on an Angkutan to Telaga. That's Rp 5,000 per person + Rp 5000 per bike. Bikes go on top. We arrive at Telaga after nightfall in the middle of a downpour and check into Villa Belle Bunga (GPS BELBUN), a penginapan just around the corner from the bus terminal. Villa Belle Bunga has double rooms from Rp 20,000 to Rp 35,000, all with attached bathroom. More expensive rooms are nicer / cleaner. The place has a spacious layout and some style. Service is excellent.
Rain continues throughout the night. I buy some streetfood (Gado Gado) that we eat in the room. I wonder how Alkis' manages to dislocate his knee that evening but luckily it can be restored by pulling vigorously.
8.December
From Telaga, we cycle south to Gorontalo and east to Lombongo Hot Springs (GPS LOMBON). The place has been / is being developed for tourism massively. Everywhere there are pools and buildings, some under construction, others neglected. Very few are actually in use and there were virtually no visitors (maybe due to the fact that it's a weekday). Snacks can be bought at warungs.
Following the hot water feed of the main pool for a few ten meters, we find a small and fairly clean spot where the hot water runs from a pipe. People say it's possible to follow the stream of hot water up into the hills where it originates but the way is difficult (muddy, steep). There's a waterfall 3km from the pools. Guides offer to take us there but we don't feel like a hike.

On the way back, we pass Air Perinti (GPS PERINT), a pond / reservoir that is almost completely dry when we visit.
Not far at Jln Nani Wartabone #99 there's Cafe Nunu (GPS NUNU), an excellent restaurant with very reasonable prices. It was full and we had to queue, better call Tel.826188 for reservations.
Notes on hotels in Gorontalo:
Melati Hotel has rooms for Rp 55,000 (old building), Rp 80,000 (new building, fan, bathroom), Rp 110,000 (new building, aircon, bathroom, TV). It's a spacious and nice place, the new building is an L-shaped long house that embraces a garden. The old building is full of antique objects. Pak Alex is a nice and very helpful man.
When we wanted to stay at Melati, the front door was locked and it looked like closed. We had to take some effort to get in but it was worth it.
Just to the right of the Melati Hotel entrance is a fairly good Internet cafe and telephone shop.

We read e-mail and relax the rest of the day. Dinner at a recommended Chinese restaurant one block from Melati Hotel.
9.December
Doing e-mail in the morning, then Bus to Palu. Departure directly from the Damri office (GPS GRDAMR) in Gorontalo town. It's an uncomfortable 16h-trip through mountainous area. We enjoy 3 different drivers (and driving styles) in sequence. At 4am we arrive at Mamboro Bus Station (GPS MAMBOR), 13km from Palu. Buses don't go into town any more.
We cycle into Palu, on the way we take an early breakfast at stylish Nagaya coffee shop. There's soccer on TV.

In Palu we survey several hotels. Eventually, we check into the Palu Golden (GPS GOLDEN), the ultimate place to stay. It looks somewhat run-down and it's under renovation, this is why they offer massive discounts. We enjoy AC, TV, spring beds, hot shower, hotel pool for Rp 108,000 instead of the regular Rp 200,000. Breakfast buffet is OK but costs extra - we find it's not much value for money.

Another top hotel in Palu is Pattima (GPS PATTIM). Melati is a new penginapan (GPS MELAT1). There are many more hotels and hostels in Palu, too many to list.

Restaurant "New Oriental" has closed. Seafood restaurant "Aroma" (GPS AROMA) is not bad. There's a KFC (GPS KFCPLU) in town, I enjoy the ice cream there.
10.December
Relax from bus trip the day before. Sleep.
11.December
Our bikes take us to Tanjung Karang (GPS TANJKA) thru Donggala (GPS DONGGA). Donggala has a penginapan, it's called Melati (GPS MELAT2).
The beach at Donggala is nice and lined with bungalows and restaurants. Popular Prince John Dive Resort is operating.
We have some drinks at one of the cheaper places, spend some time on the beach and in the water, then ride back to Palu.


12.December
Rest some more, do shopping. Suggested malls / supermarkets: GPS BNS, MITUTA
Along Jln Gajah Mada are a number of hardware-, textile-, shoe-shops.
We failed to find an Internet cafe with a working internet connection.
13.December
The day starts with a visit to the post office (GPS POSPLU). I send a parcel home - too much shopping the day before.
Next we check with the local Kantor Pariwisata = Palu Tourist Information (GPS TOURI1) for details of Lore Lindu Park. Looking at the large, multi-storey building with an impressive entrance and looking at the location (far on the outskirts of Palu where few tourist wander), we doubt they are able to be of much help. We enter and ask but the knowing person is not working that day. The color brochures don't tell us what we want to know, so our visit is in vane.

We split and Alkis heads south to Gimpu while I go looking for an Internet cafe. I find nothing that works, so I soon follow in the tracks of Alkis. The road is sealed with some broken parts, good for a fast ride. After I pass a suspension bridge (right side of the road, GPS JEMGA1), the road climbs into the mountains. A landslide induces a short break. At sunset I reach Kulawi. It's raining and people invite me inside, I take but a short rest as I have to make it to Gintu that night. I quickly survey the local accommodation options: A good-looking government-run resthouse on a hill at the southern end of Kulawi. A local trekking guide is receiving visitors and explains me the national park's dangers. I understand, there's not much to fear except wild boars and some dangerous road conditions (trail conditions).

I tackle the last 25km to Gintu. It's mountains but good road. The dark and the rain keep me cool. I reach Gimpu where Alkis is standing by on the walkie-talkie and guides me to Losmen Atlantik (GPS ATLANT), the place of his choice. We consume various snacks and talk about long noses with the hotel staff until we go to sleep.
14.December
From Losmen Atlantik, it's 2.5km south to the Gimpu market. There we manage to find breakfast at a warung (GPS GIMPU). As we proceed into the wilderness, food loses taste but gains in volume. We buy some more food to eat on the way.

As we have breakfast, an ex-tourist-guide by the name of Zainal arrives. Though he no longer works in tourism (agriculture and transport earn him more), he is happy to give us any information we might need for our travel:
Zainal tells us about a direct path between Gintu and Leboni from where we can continue to Masamba and Tanah Toraja. He also mentions a direct path between Gimpu and Gintu. Though Zainal considers these trails appropriate for a mountainbike (can carry this unlike a motorbike), we judge that cycling these trails is not advisable, now that we've seen the relatively "big" and "busy" trail Gimpu - Moa - Tuare - Gintu. Well, maybe a group of professional mountainbikers can consider Zainal's suggestion in the dry season.

We get going rather late and into the wrong direction, too. A fragile suspension bridge stops us, the workers there consider us stupid. We return to Gimpu where we eventually find the right turnoff. After that, the way is easy to find. We cross several bridges (suspension type, regular ones, broken ones), we ford rivers and mud, climb and descend. It's mostly single trail, a skilled motorcyclist can go.



We take 6 hours to cover approx 30km in distance with our mountainbikes. Late afternoon, Alkis runs ahead as not to get into the night and the rain. I go slow and reach the old Moa school after nightfall. I've already made up my mind to spend the night there, when Alkis comes in on the radio and says he's in Moa, Homestay Felix, just the other side of the river. I start moving again, carefully ford the so far most difficult river of the day and continue thru heavy rain. I find Moa a dark village with shy people, so Alkis guides me to the homestay by radio. It has been a muddy, tough day.
Before I resort to some tea, I explore Homestay Felix' bathroom, some distance towards the river. It's a hut with concrete floor and without roof. Water runs into a barrel from a pipe. It gets me clean, as far as my light can tell.
All right, then tea and dinner. Food is plentiful but very simple. All of it is grown in Moa area. When we see the buku tamu, we find that indeed very few visitors and much less foreign visitors come here. We understand there have been better years in the past.
The day ends when the solar-charged battery is finished and the lights go out. We're tired and there's no alternative, so we don't complain about the beds.
15.December
Like all official accommodation in Lore Lindu Park, Homestay Felix charges us Rp 40,000 per person for the night, including 3 meals (one of which we receive packed for our onwards journey). Bottled water is available but expensive (3x the regular price).

First thing in the morning, I fix my slippers that broke the day before when crossing the last river. I then spend some time photographing the new hydroelectric power plant (which doesn't work then because too much water).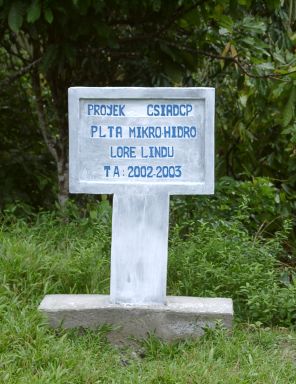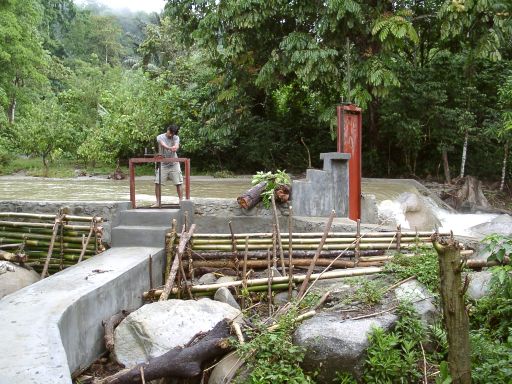 Some more photos of Moa village: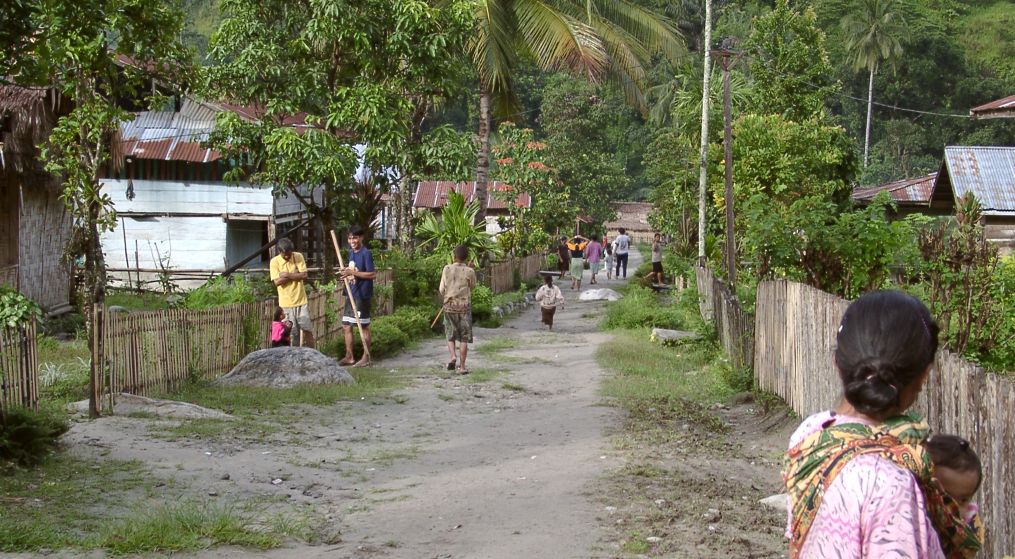 Eventually, we get going and a few minutes later, we get to know one of the town's sources of income: A bamboo-suspension-bridge. It has a locked gate and a sign asking for Rp 5,000 per motorcycle or Rp 500 per pedestrian. Meanwhile, a crowd of Moans who have been following us has caught up with us. We pay Rp 10,000 for the 2 of us, to finance the 4 men working full-time on the maintenance of the bridge.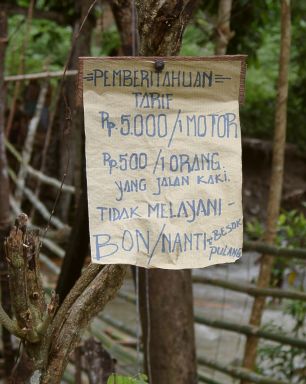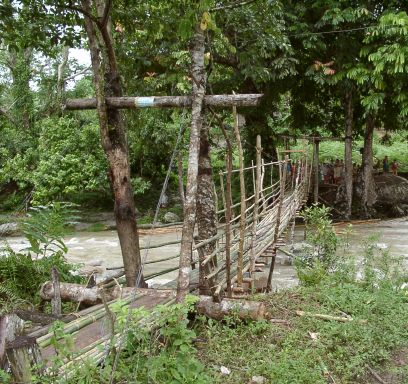 Yesterday, the brakeshoes (and rims) of our bikes have suffered quite a bit, so we take the next opportunity (a stream across the trail) to replace these parts (Need to free them from mud, first). One day of mud and mountains has been enough to wear original Shimano brake shoes thru to the metal. I fear to run out of spares soon.
Again, it's beautiful scenery (partially reminds Alkis of an Austrian alpine pasture), lots of wild and untouched green all around us, no roads (except the trail), no power lines, almost no traces of civilization, what sounds like a horn is a bird. Every time we meet people on the trail, we stop and talk. As always, people want to know where we come from. However, the main subject is the trail itself: How bad is it, is it just muddy or is it steep and muddy and slippery all together, are the rivers easy to ford, what condition are the bridges, can a motorcycle cross there, ... have a nice trip.
The trail is not easier than the day before. Lots of mud and water. We are amazed at what local people accomplish with their old motorcycles, on horseback or by foot.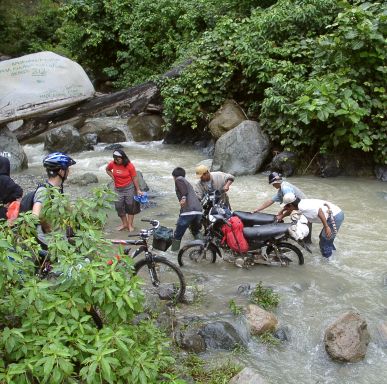 We realize we're moving too slow to make it to Gintu by nightfall. We reach Tuare 1.5 hours before sunset. That has been 21km from Moa and we don't dare to do the remaining 10km to Gintu, given the rain and unknown road conditions. The effect on the brake shoes was comparable to the day before.
We check into the Kepala Desa's great guesthouse, a longhouse with nice view over a lake backed by mountains. Again, the charge is Rp 40,000 per person with 3 meals included.
Bonus: There's one of the rare local maps on the wall: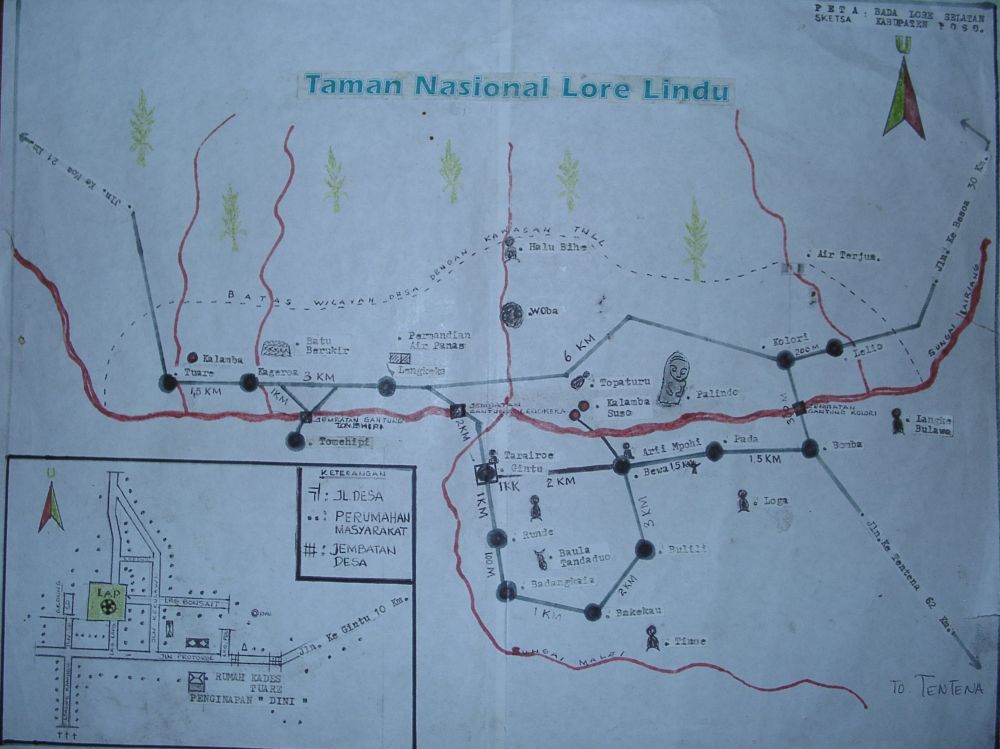 I ride to the river where I wash my bike and stuff, next I enjoy the mandi at the guesthouse: Clean tiles, electric light & unlimited water !
Yes, there's reliable electricity in Tuare - I recharge my batteries for lights and GPS.
Dinner beats anything we've had so far in Lore Lindu Park. It's a lot, it's nice, it's some variety, it includes meat, it's being served in a dining hall !
16.December
To Gintu we take around 1.5 hours. The trail is fairly good and wide, not much up and down, little mud. A fast and smooth ride.
Yes, the Bada Valley - a place that features 14 soccer clubs and a total population of 5000 - it is green and beautiful.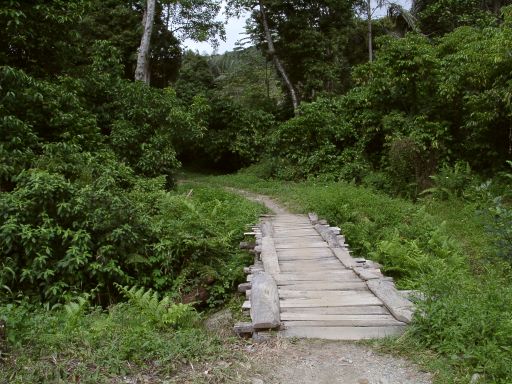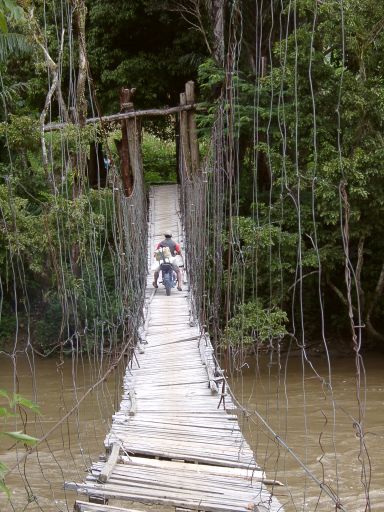 Just before Gintu, there's a bamboo raft waiting to take us across Sungai Lariang (Rp5000/trip). At Gintu, we find 2 places to stay. First one from Tuare-side is Losmen Barito, nice longhouse and friendly people, the common Rp 40,000-deal inclusive 3 meals. Alternatively, there's Hotel Sanur. Looks bigger and costs more. Rp 30,000 without any meals, each meal is Rp 10,000. Staff is reluctant to show us the rooms and people recommend Barito instead, so we don't spend much time at Sanur.
At Losmen Barito, we meet a tourist guide and arrange for an afternoon-trip to various megaliths (Rp40,000).
We ride to Bewa. At the junction with Arii Mphoi Megalith, we turn north (=towards the river).
In the kampung, we hire a raftman (Rp10,000) who takes us along an increasingly muddy and later knee-deep wet trail to his raft, carries us across the (fast-flowing) river and drops us at the head of another muddy and wet trail. We walk between rice fields, our guide probing around for a safe way before he calls us to follow him. The way to the megaliths changes with the state of the rice fields. Eventually we have our first megalithic encounters, the jars called Kalamba Suso (GPS JAR1, JAR2, ... JAR6).
Not far from there we see Topaturu (GPS TOPATU), a statue lying on its back.
Our guide then leads us onto a sealed and half-overgrown trail, a relic of recent tourism promotions. We follow this convenient trail for a while and our guide says sorry, knowing that western tourists prefer wild and muddy trails. A little over 1km from Topaturu, walking on somewhat elevated grassland, we suddenly spot famous Watu Palindo (GPS PALIND) in the distance. It's impressive from far and more impressive as we get closer. Big photo session, then rest and smoke in the crumbling tourist-pavilion nearby.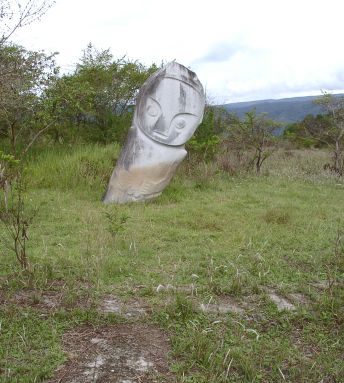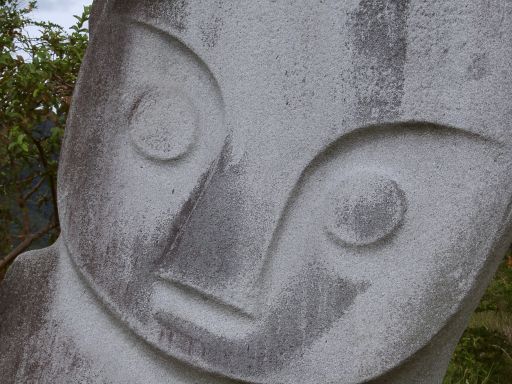 We return to the river, have a second bamboo-raft ride, fight our way back thru water and mud into Bewa.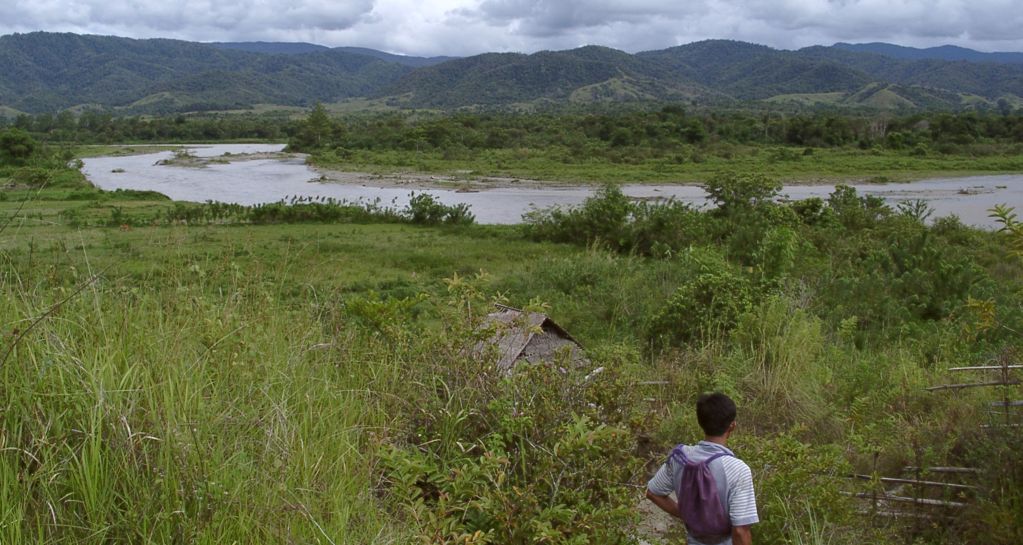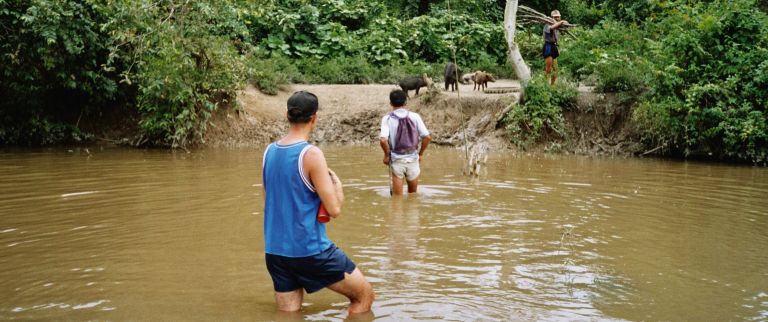 From Bewa, we cycle on our own to the village of Bomba, turn left towards Kolori, past Homestay Ningsi (GPS NINGSI, looks nice and costs Rp 40,000 incl. 3 meals), across a suspension bridge over Sg.Lariang. We ride thru Kolori and almost all the way to the waterfall, only for the last few meters we have to leave our bikes and walk.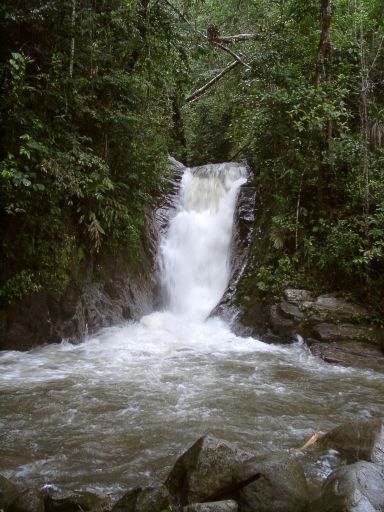 As we reach the falls, rain starts. We take but two photos before the rain gets stronger, we hurry back to our bikes and run to Kolori.
Alkis then attempts a speed record for the Bomba - Gintu part. I arrive at Losmen Barito a bit later. The rest of the day is mandi, dinner and planning tomorrow.
Next time I visit Lembah Bada, I will probably stay at Ningsi in Bomba, from where Watu Palindo is accessible without bamboo raft.
17.December
We have decided to return to civilization on one of the 4WDs that run between Gintu and Tentena. There are at least 10 of these Toyota Landcruisers in Gintu. 8:00 in the morning is the best time to find out which one is going. Usually, the trucks leave between 9:00 and 10:00 in the morning. The fare is Rp 25,000 to Rp 30,000 per passenger. We pay Rp 100,000 for the two of us including our bikes.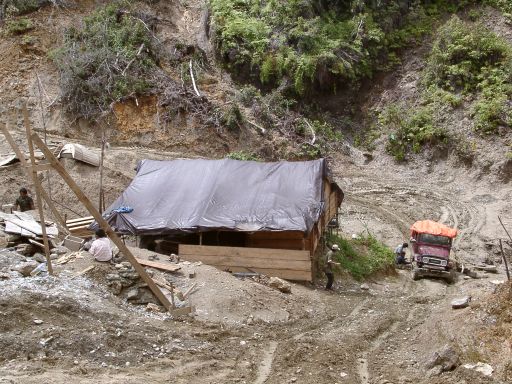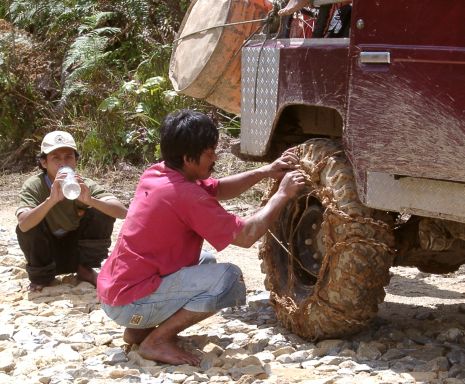 It's the sort of ride where passengers not only need to watch their head but participate in propelling or balancing the vehicle. Luckily it's not raining while we do the difficult parts. We have very few problems, so can make it within 5 hours. It looks like a 2 day project for an average mountainbiker, a well-trained guy can do the whole distance in 1 day. Only 25km of the total 65km are tough while dry weather will make these parts much easier.
We and our bikes arrive well in Tentena, a town with loads of places to stay. The most popular one is "Victory" (GPS VICTOR). Clean double rooms with attached b/r are 50K or 100K. Host Daniel is an excellent source of information. Various tourist services are being offered. Don't miss their map of Lore Lindu Park. Those coming from the park, note the laundry service !
Alternative places are Hotel Intim (GPS INTIM, 135K per double, lake view, a bit run-down), Panoma Indah Permai (GPS PAMONA, 80K, so-so), Horison (GPS HORISO, appeared closed at this time). All above places are in the same (quiet) corner of the town.
A bit outside town (western side of the river) there's We Dato Bungalows (GPS WEDATO, 80-110K).
"RM Pelangi" (GPS PELANG) is a popular rumah makan (=RM). It's some distance beyond the market.
18.December
It's waterfall day. Two falls are within easy reach of Tentena.
Saluopa Falls (GPS SALOPA) is 16km from Tentena. Follow the road to Gintu up to GPS 2SALOP, then follow the signs. The waterfall itself is beautiful and fun to climb. Getting to the top takes around 2.5 to 3 hours. The lower levels can be conveniently accessed by stairs / sealed path.
Papa Johan (a man at the age of 80 - yr 2003) and his wife are living in a house at the entrance to the waterfall. Visitors to the falls send him letters from all over the world. He invited us to sit down for some tuak and ubi. If you want to send a letter, address it to: Papa / Mama Johan, D/A Air Terjun Saluopa, Tonusu-Tentena, SULTEN, Indonesia.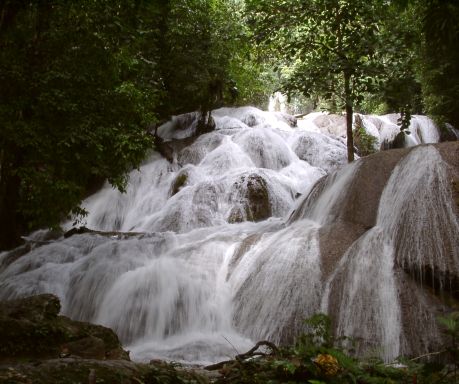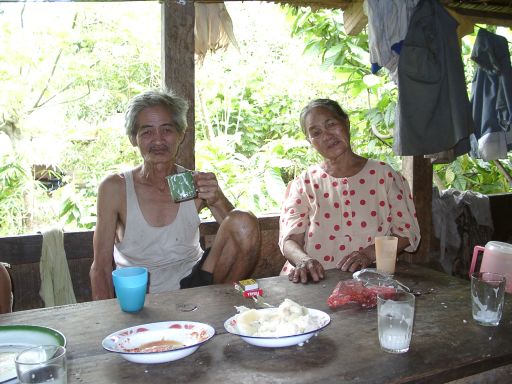 Violent Sulewana Falls (GPS SULEWA) are fed by Danau Poso and are 19km from Tentena. Follow the road to Poso, turn onto a small road at GPS 2SULEW. A covered bridge leads to a rock that offers great views of the falls. A trail leads down, it is rather muddy in the rainy season. This fall is spectacular to look at but too wild to swim.
On the way out, we buy Tuak in one of the villages. They call it "Saguer", here.
Dinner today again at the RM next-door to Pelangi. Less choice there, still good.
19.December
Cycling to Pendolo along the scenic western side of Danau Poso. The whole distance is 76km. The road is sealed but some parts are badly damaged, other parts are rather steep, some stretches are flooded. This road is nearly impassable for a Toyota Kijang. A 4WD, motorbike or bicycle can go. Consequently, there's very little traffic. I didn't feel well that day, so the up-and-down was particularly tough on me.

Soccer is not only popular in the Bada Valley but around Danau Poso, too: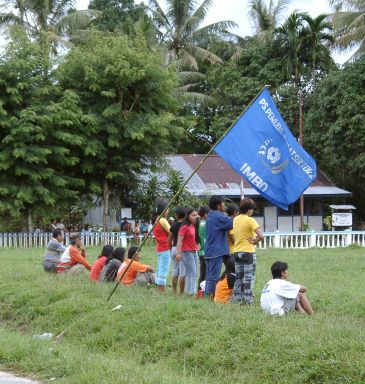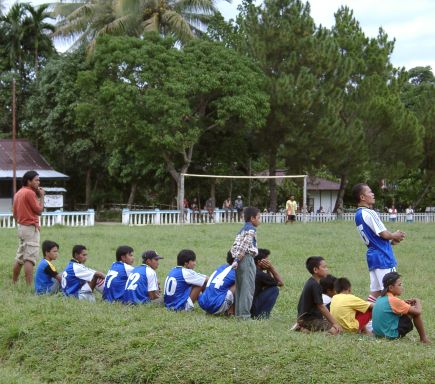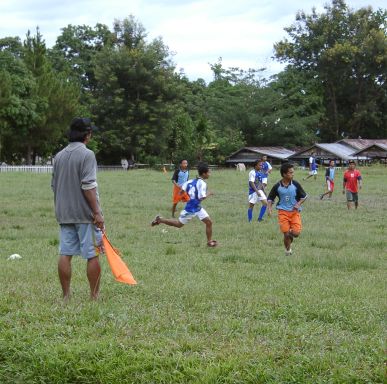 Along the way to Pendolo, there are beautiful white-sand beaches (visit the nice resort at GPS SIURI), several Balinese villages (resulting from Indonesia's "transmigrasi"-politics), further south there's an Orchid Garden = Taman Anggrek (GPS TAMANG). From the entrance, it looked neglected - we didn't go down as it was raining.
At Pendolo, we visit RM Anggrek for some calories. It's near the police station and neither particularly tasty nor cheap. It does however have a large parking lot to accommodate coaches. The typical bus-restaurant.
Later we find much nicer food at Losmen Victory. Their restaurant is set on stilts at the shore of Lake Poso. Nice view from their place:


Along the way from the mainroad to the beach, we note several burned-down houses. A local man explains us that these Christian houses have been burned-down in 2001. He says that now, Pendolo has a mostly Christian population and it's rather safe. Well, the recent presence of Indonesian army could stir some trouble. We're not sure how this all goes together and if the Chrisitans or the Muslims are the bad guys. Later I post to an Internet travel forum on safety in the area.
Not far from the beach, we meet Thomas, an ex-tourist guide who speaks German. He is overseeing the building of a house. We're curious and ask a lot of technical questions on the subject of building houses in Indonesia. We learn that a house costs about as much as a car. The wood needed for the forms is a substantial amount of the cost. If tourism in Indonesia picks up again, Thomas may work in tourism again. If you plan a trip to Danau Poso, why not contact him ? Thomas Upa, thomastoraja@hotmail.com or HP:0812-4154351 or Rumah:021-2327047
That night, we plan to move on to Tanah Toraja and wait for the well-known Batutumonga bus. It passes the central junction (near Pendolo's defunct bus station and the monument) at around 8pm. After nightfall, the junction is guarded by military. The military makes sure the bus stops for us and Thomas bargains the fare. Our bikes go on top of the bus, we squeeze inside and get going.
It's another one of these Indonesia-bus-experiences: The bus is pretty full, seats are narrow and not made for people with long legs, we cannot sleep though we are very tired. The road climbs mountains and we go rather slow. Up to Wotu, there are regular military checkpoints.
Later that night, our bus has a brake problem that the crew is not well prepared to fix. It takes a long time until the brake has been patched up (actually one of four cylinders disabled) and the driver dares to move on. Knowing about this, we feel rather uneasy on the last and most spectacular descend before we reach Rantepao.
20.December
We get off the bus early in the morning, hours later than expected.

Toraja Prince is a recommended restaurant not far from Bolu bus station. We're the first guests of the day. We order hot drinks and try not to fall asleep as the friendly and helpful host feeds us all sorts of information on Torajaland.
Next we survey a few hotels and soon check into something that is probably not the best deal in town, however I am tired. I take a hot shower and sleep until the late afternoon while Alkis explores the area and spends some time relaxing near the river.

When I wake up, I go to town and bring my rarely-used sneakers to the tukang sepatu. He charges me Rp 15,000 to fix back the soles that have come off.

We take dinner at popular Mambo Restaurant. Nice food, reasonable prices.
21.December
It's Thursday and we've decided that we need a hotel room where toilet flush, hot water and lights all work. We move to the reputated Indra Toraja 1. We pay a discounted Rp 80,000 for a nice double that's facing a beautifully-maintained inner garden. Breakfast inclusive.
The most recommended place in town is Wisma Maria. It appears a good place to meet other travelers.

The day before, Alkis has booked a mountain bike tour at Holiday Travel around the corner. At 8am, we meet our Guide John at his office.
While John's bike is worn-down and gives us quite a bit of trouble, he is an excellent guide to all the tourist attractions that we visit during our tour. John is able to adapt to all sorts of people (including us) and has a good knowledge of the area.
A brief Summary of our Bike Tour
From Rantepao, we take the sealed road south to Makale and stop at Londa. There we visit the graves / caves. When entering the caves, we are expected to hire a guy with a lamp (Rp10,000) though we have our own lamps. I later don't regret it, the pressure lantern gives a very steady and bright light, better than any flashlight.
Back to the mainroad and further south to the Lemo turnoff. In Lemo, we visit more graves. Most of the souvenir shops there have closed due to the downturn in tourism. A few are still open and Alkis buys some imitations of old dutch coins.
Again back to the mainroad and further south, then east to Kambira. It's lunch time and John recommends us a restaurant along the way. We see the menu and the prices and decide on having a simple Bakso somewhere else. John knows a warung several km along our planned route. There we stop and enjoy nice and inexpensive Bakso with lots of meat. Alkis tries some Tuak. At Kambira, we visit the Baby Grave (tree).
Next we visit a nearby place where they play bamboo music (GPS MUSIK). Unfortunately, the more affordable band is not available while the available band is not affordable.
Time to turn back. We go north up to Ke'Te Kesu. It's a rather long stretch, partially off-road. At Ke'Te Kesu, we visit traditonal Toraja houses.
We continue back to Rantepao on mixed roads. We are back at 4pm.
It was a great day, perfect balance between must-do tourist objects and physical exercise. To repeat this tour, refer to my GPS waypoints and track (preview).
John typically asks for Rp 100,000 per group for this 1-day service. It's possible to bargain, we payed half.
To save 50% on entrance fees, explain that you do neither need a receit nor have to sign the guestbook, then just pay half (carry small bills). They call this corruption and it works very well.

Back to town: Rantepao's only Internet cafe (GPS INTER3) is disappointing: PCs are very old and in poor condition while Internet just doesn't work. Luckily, Alkis finds a furniture shop whose owner rents out his personal PC to visitors. This one works very well.

Dinner that day again at Mambo. We have pre-ordered a traditional Toraja meal which I do not enjoy much (vegies cooked in bamboo pipe taste bitter). Alkis likes it.
22.December
In the morning, we visit the Bolu market. We are lucky, the livestock market is on today. Mainly buffaloes and wild boars are traded, a truly exceptinal market, unique in the world. It's a tourist attraction, so when police spots us they sell us tickets at Rp 10,000 each.

It's a busy market where the casual tourist - possibly bewildered by sensations such as smells, noises, heat, blood and bullshit - easily gets into the way of pigs pushed along on wheelbarrows, buffalos being pulled by a rope thru the nose and minibuses collecting passengers.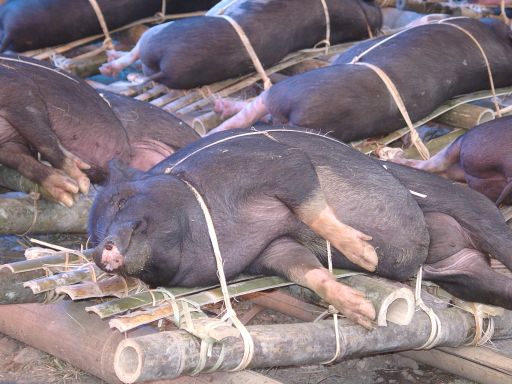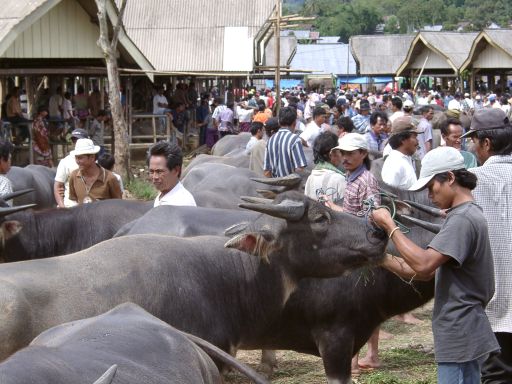 Having done the wild boar section and being nearly thru the buffalo part, we meet a Torajan guy who is living abroad. He came to the market in order to buy a buffalo for his diceased father's funeral. We learn that the value of a buffalo is not only defined by its size and health, any deviation from a plain black skin is an additional bonus. Prices for buffalos start at around EUR 1000 and may increase substantially depending on the animals features.
We're somewhat glad to leave the livestock market behind, having consumed a substantial amount of camera memory. Next we do the neighbouring (partially wet) market. We find what's commonly sold at Indonesian markets plus some Torajan specialties. Some of the snacks are nice.
On the way back from the market, I want to confirm that a funeral we heard about is actually taking place. We cycle to Tallung Lipu (GPS TALLIP), find the location and cycle right thru it. I'm not sure if the celebration has yet begun or if it is already over and if tourists are welcome. I feel uncomfortable to bump in like this and we end up spending the afternoon cycling to the natural pools at Tilangga instead.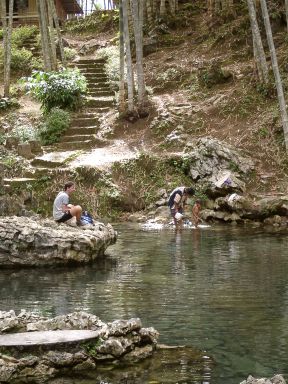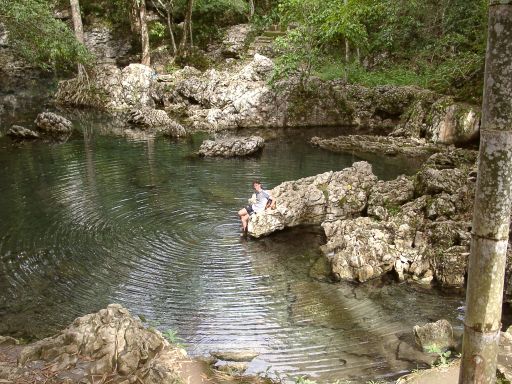 Tilangga (GPS TILANG) lies south of Rantepao, some km off the mainroad along a stony and steep small road. Now that tourism to the pools has declined, it seems the cleanliness has come down to a level where residents feel comfortable. We remove obvious signs of civilization and take photos. It's a beautiful setting. Later a girl comes down trying to sell us entrance tickets at Rp 10,000. She is not very successful, though.
Down to the mainroad and halfway to Makale, we decide to pay this town a visit. We find Makale a relaxing quiet town and enjoy a huge Martabak Istimewa at the central lake. Alkis then races back to Rantepao while I follow at a more moderate pace.
Dinner we take no chances. The Mambo, of course. Nice food, never mind the power outages. Our guide John comes around and invites us to visit the Tallung Lipu funeral next day. He already has a mixed group of travelers who will go, so we can join. This is our second and possibly last chance to get the Toraja funeral experience, so we grab it.
23.December
Dressed as decently as our bag of clothes permits, we appear at the Holiday Travel office where we meet the rest of the group: Two European and one Japanese traveler. Plus our guide John, who is wearing dark. We discuss the price of the tour and conclude that the 3 other travelers pay Rp 100,000 to John while Alkis and me contribute Rp 65,000 in the shape of Marlboro to serve as a gift.

We take an Angkutan to the Tallung Lipu turnoff, from there we walk to the village. John appears a well-known personality and we are quickly taken to a pavillion where we receive drinks and snacks and hand over our Marlboros.

Next we move closer to the center of activities trying not to be in the way and not to miss anything at the same time. What happens is that visitors are led around the central yard and into the visitors' pavilion by a group of nicely dressed ladies. Some visitor groups perform dances. At the same time, men carry in and lay down on the ground the gifts (commonly wild boars) contributed by these visitors. While the visitors sit down in the pavilion and enjoy drinks, snacks and cigarettes, it's being announced on the speaker who these visitors are and what they contribute. John explains that all this is written down in a book to be remembered.
Eventually, the visitors move out of their pavilion again, the presents are being carried out and a new group of visitors march in. This goes on for quite some time.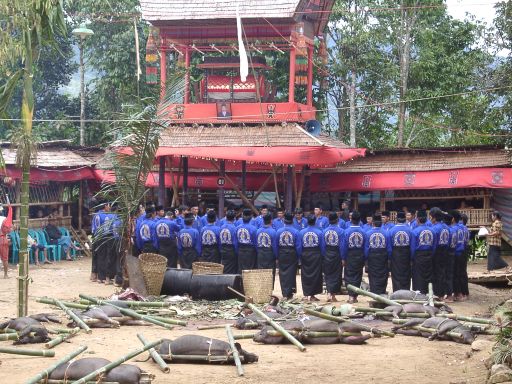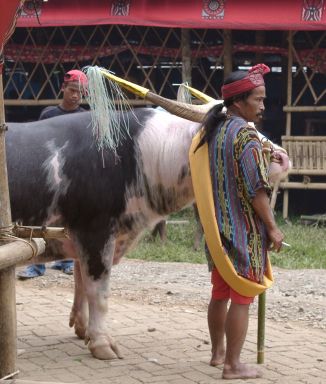 Now John starts looking for an opportunity to witness the killing of a wild boar. Few of us are keen on watching this but it seems an unavoidable part of the tour. The butcher is prepared to have us around with cameras while some locals watch us, possibly expecting that one of us would black out. The butcher explains that it's important to have a strong arm and a short, heavy knife for the job. The killing goes very smooth. The wild boar appears rather calm during the process and it's even not 5 minutes until all signs of life cease and the animal's blood has been drained into bamboo pipes. Professionally, the butcher removes the intestines and places them on a banana leaf where they are sorted and eventually carried away for further use. The wild boar is then being grilled on a fire. Upon that, we're invited to join a meal of red rice, bamboo-cooked vegies, grilled meat and cooked blood. With the killing in mind, we first don't feel much like eating but then we find it's really tasty. I say it beats Mambo Restaurant. The local men let us know that they think we're really cool, enjoying their simple food and tuak.
Our next stop is the kitchen. A dozen ladies prepare food for the visitors. We take some group photos and end up in yet another pavilion with more snacks and tuak until we decide to leave.
Back from the funeral, we change into more comfortable clothes and hurry to a rock concert organized by Nikki, a cigarette brand popular in SULSEL (southern Sulawesi). Amongst several bands playing, Java Jive is the most popular one.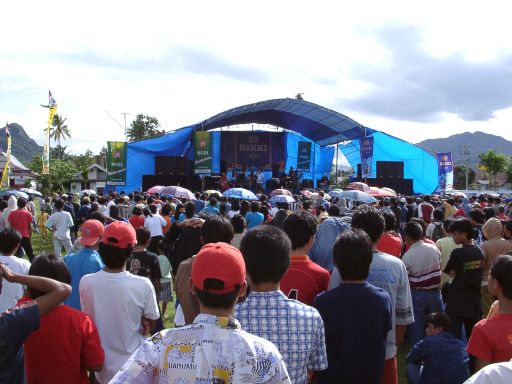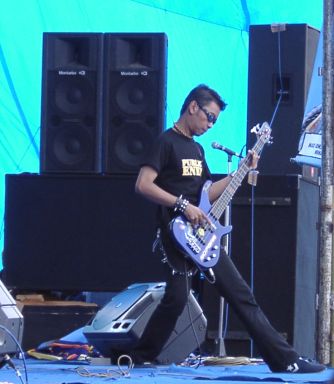 Dinner at Mambo: We wear our headlamps.
24.December, Christmas Eve
We're running out of time, have to hurry to Makassar from where I will return to Jakarta while Alkis will continue to Den Pasar / Bali. There's no way around another one of these dreadful bus trips: Leaving at 7:30 in the morning, enjoying repeated flooding of the road, arriving at 7pm.

We take our dinner at one of the warung at the seafront (GPS WARUN2) where beggars entertain us. That night we end up at Yasmin Hotel (GPS YASMIN) for Rp 150,000 including breakfast and tax. Alternative accommodation could be the Legend Hotel (GPS LEGEND) at Rp 15,000 / 40,000 (dorm / room).
25.December, Christmas Day
We start the day early having breakfast together with Dodo, the legendary "Penman from Makassar", a contact established earlier thru a Lonelyplanet Internet forum.

During our last hours in Makassar we suddenly feel the urge for shopping but our activities are somewhat limited by the fact that it's Christmas Day (albeit in a Muslim-dominated area) and all money changers and a lot of shops are closed. The malls (GPS MAKMAL, ALFA) are open, though.
At the end of the morning we have learned that shoes are only available up to size 42 and state-of-the-art Shimano brake blocks are only sold at shops that are closed on Christmas Day. Still, Alkis manages to replace his lost watch and I find a nice imported bicycle pump.

While Alkis flies out in the afternoon, I cycle up north to Bantimurung, a 45 km trip from downtown Makassar. Around Maros, the road is flooded in several places slowing down traffic a lot. Some of the kids earn themselves pocket money by pushing stuck vehicles out of the water.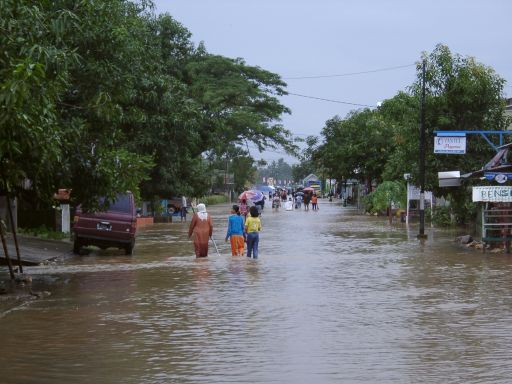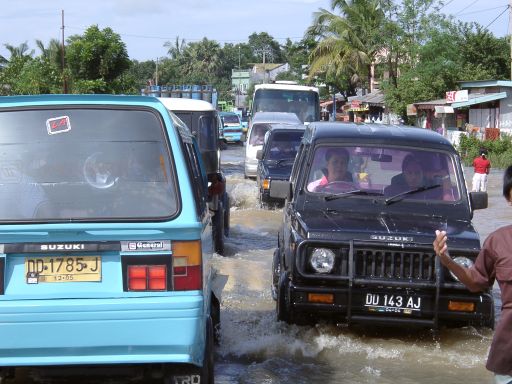 It's just about getting dark when I reach Bantimurung Waterfall (GPS BANTIM).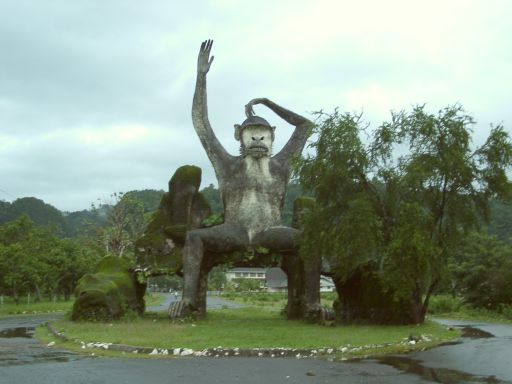 A man at the gate is selling me a Rp 5,000 entrance ticket, then he insists on guiding me because the area would be dangerously flooded. After a few minutes walk, a lake of water stops us from getting any closer to what sounds like a very potential waterfall. My flashlight can't penetrate the wet darkness and I agree with my guide: There's nothing to be seen or done tonight. He explains that this sort of flooding is quite common from December to February.
A few food stalls are operating along the empty Bantimurung carpark. On my way out I stop there for dinner.
A swift nightride brings me back to the Maros mainroad junction not far from the airport. A couple of hotels can be found around there. I spend the night at Hotel Darma Nusantara (GPS NUSANT) at Rp 60,000 for an OK single with bathroom and fan. Nearby alternatives are Transit Hotel (GPS TRANSI) and Afiat Hotel (GPS AFIAT).
26.December
Taking some more fotos of the traffic on flooded roads, then catching a plane to Jakarta.
Airport tax at the Makassar Airport is Rp 15,000 + Rp 1,000 insurance.

End of itinerary
---
Supplemental Travel Notes
Hotel Room Checklist