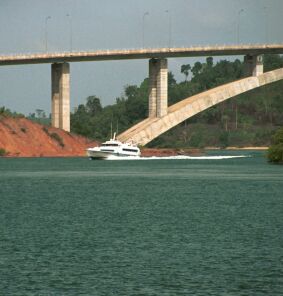 Next morning, you make it to the Galang jetty where a number of people are already waiting for the 9am boat. (Sometimes there's a second boat at 4:30pm, but no promise.) The speedboat passes Jembatan Lima, another minute and it's there. The stop is short, but there are helping hands for the bicycle. The boat accelerates without delay. It travels at a speed above 50 km/h. There are a few more stops until it heads across the sea to Tanjung Pinang on Pulau Bintan, which is 33km from Galang.
For Galang people, Tanjung Pinang has a very metropolitan feel. It's a city with lots of shops, markets, restaurants, hotels, industries and quite a few interesting things to see (refer to Lonely Planet). Internet can be accessed as well.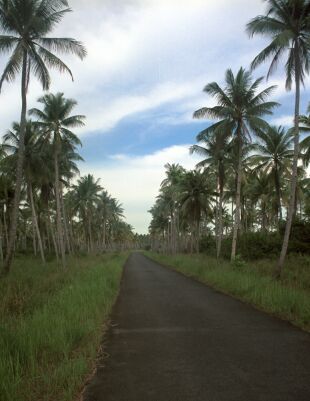 From here, the tour leads to the east coast, then up north, eventually west to Lagoi.

Asking for the airport, you get on the right track to the east coast. You find the spot where you have to turn left, asking the Ojek (motorcycle taxies) for the way to Gesik. At the Gesik Y-junction, turn right. Despite a few more motor vehicles, an enjoyable ride with a few opportunities to take a bath in streams.
Along the east coast are a number of tourist resorts (incomplete list):
- Bukit Berbunga Cottages Rp 50000, simple, relaxed
- Trikora Beach Resort - Sin$ 50/60 w/ aircon, luxurious
- Shady Shack - Rp 70000 for a wooden hut, nice beach location, newly renovated in 2003. Check out Mr Lobo's 2-storey huts, bedroom on the upper level, cool)
Right in the corner of Trigora IV Beach, just north of Bukit Teluk Dalam, this is not a resort but Maria's restaurant / shop / house. For some strange reason, tourists get stranded there and Maria welcomes them to spend the night in her home. The strangest thing that happened is that a Dutch lady who stayed at Maria's house got a baby. No English spoken.
Somehow you manage to find some sort of accommodation that night. While you sleep, some fishermen discuss how many gears your bike may have.